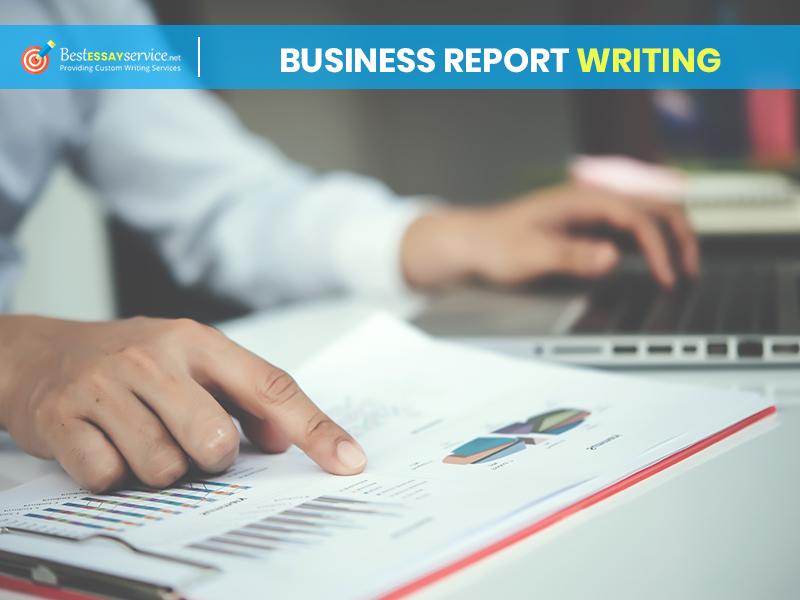 23 July, 2019 in Writing Guides
Tips for Writing Successful Papers
If you are not sure how to write a business report, it might sound like an overwhelming task at first. But fortunately, writing a (BR) business report becomes easy if you familiarize yourself with the process. There are a few key steps for writing a business report that you should be aware of whether you need a business report template or business report templates
Identify the point of business report
Whenever you go into the process of writing a business report or any type of writing for that matter, you should understand your reasons for doing so. This will provide focus and purpose, which in the end will save you time since you will be less inclined to get stuck. Think about who you are addressing, why your business report is relevant and important, any recommendations for solving the problem, and what others - whether they are employees or clients - can do to help.
Writing a business report is not any different from other types of writing assignments. You should choose your words carefully, keep it brief and concise, and do not stray off course. You should also avoid using the passive voice or getting too wordy.
Keep Your Ideas Organized
Whether you are writing a formal business report or informal one, it needs to follow a logical structure that makes it easy for the audience to understand the paper. To achieve this, start by making an outline.
Structure of a Business Report Example
Now let us focus our attention on the structure of a business report example. Although the business report format will differ depending on the requirements of your instructor, there are certain parts of a business report that are generally universal. For instance, you should ask yourself, "What are the three parts of a business report?" The answer, of course, is an introduction, body paragraphs and conclusion. Let us take a look at all of the elements that make up proper business report writing.
⮜

The Business Report Title Page

➤• •

Also referred to as the business report cover page, this is where you will put the title of the report and your name as the author. In some cases you might also write the name(s) of those whom you are addressing.
⮜

Table of Contents

➤• •

If your report is fairly comprehensive, it will be important to list all of the various sections along with page numbers.
⮜

List of Figures and/or Illustrations

➤• •

If your report contains pictures, charts and other graphs and you should create a separate page that lists them.
⮜

Abstract or Summary

➤• •

When you want the reader to get a grasp of your report without necessarily requiring them to read the entire paper, the abstract or summary will assist. While there are no set guidelines in terms of word limits, 300 words is generally enough.
⮜

Introduction

➤• •

The introduction (or opening) of a business report should contain a few key things. First, it should provide context or background on the issue being addressed in the report. You will also discuss the scope of the report, in particular the areas that you plan to cover. You should also take into account any limitations of your report, such as lack of time or funds. Also go into the detail about the methodology and why it was most appropriate for this report.
⮜

Body of the Report

➤• •

In this section, you will present the facts along with your comments. You can also use charts, graphs, and even other sources. Just make sure to cite them properly.
⮜

Recommendations

➤• •

In a business report, recommendations can be extremely important. After all, it serves as your opportunity to provide solutions to a problem. Keep in mind that the recommendations made within a report must be realistic and feasible.
⮜

Conclusion

➤• •

The business report should contain a conclusion that discusses the broader implications for the paper, especially as it relates to how the reader can use and apply it.
⮜

List of References

➤• •

If your report contains outside sources, make sure to include them on a reference page. They should be listed according to the formatting guidelines that you choose (i.e., APA, MLA, Harvard)
⮜

Glossary

➤• •

If your report contains a lot of technical language that the audience might not necessarily understand, it is important to include a glossary page that contains their definitions. Alternatively, it can be acceptable to provide an explanation in footnotes on the same page.
⮜

Appendices

➤• •

Sometimes the charts, graphs and other statistical information can be inserted right into the content of the report itself. But there are times - such as when you are providing sheets full of data - when they should be included on a separate appendices page.
⮜

Index

➤• •

This is separated into two parts: the subject index and name index. The subject index lists important words and the pages where they can be found within the report. Likewise, the name index lists names of individuals or organizations along with their corresponding page numbers.
⮜

Signature

➤• •

The business report is signed by the person who submits it and should also include the date. If this report is being evaluated by a committee as a requirement for graduation, they will often sign it as well. In other cases, only the chairperson of the committee signs.
Plagiarism and QA report
Professionally-qualified writing experts
Top-quality, at a great price - guaranteed
Commitment to deliver papers by deadline
No limit of revisions a customer can request
Mistakes When Writing a Business Report
If you do not have much experience with this task, there are certain common mistakes when writing a business report that you should be aware of.
Using language that is emotional or watery. When you write business reports, you want to avoid using language that is emotional or watery. Expressions such as, "Amazing" "absolutely" and "gigantic" have no place in business reports.
Making it personal. As with almost all types of academic writing, you avoid using first person (i.e., "I think that…") In addition, you should not express personal opinions. Just stick to the facts.
Making assertions without evidence or using sources that are questionable (such as blogs) in order to make your case.
Not taking into account the particular audience. Whether you are writing to an academic committee, executives of a company or potential clients, make sure that the tone and word choices are geared towards them.
After having read this, you should now know how to write a business report template!
23 July, 2019 in Writing Guides